Joined: 06 Dec 2009, 00:17
Posts: 11563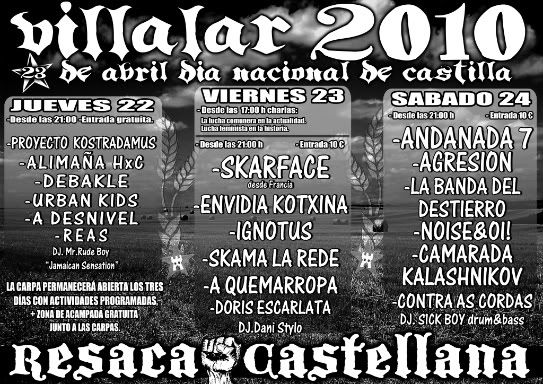 VILLALAR 2010 CARPA RESACA CASTELLANA



JUEVES 22 gratis:

-REAS

-A DESNIVEL

-ALIMANtilde;A HC

-PROYECTO KOSTRADAMUS

- DEBAKLE

- URBAN KIDS

Dj MR.RUDE BOY

VIERNES 23

-17:00 Charlas:

La lucha comunera en la actualidad

Lucha feminista en la historia

Concierto entrada 10 euros:

-DORIS ESCARLATA

-IGNOTUS
-SKARFACE DESDE PARIS

- ENVIDIA KOTXINA

- SKAMA LA REDE

-A QUEMARROPA

dj Dani Stylo

SABADO 24 bono ayuda causas antifascistas 10 euros:

- CONTRA AS CORDAS

-CAMARADA KALASHNIKOV

-LA BANDA DEL DESTIERRO

- ANDANADA 7

- AGRESIOacute;N

- NOISE amp; OI!

Dj S1ck boy drumamp;bass

LA
CARPA DE RESACA CASTELLANA PERMANECERAacute; ABIERTA LOS TRES DIacute;AS CON
ACTIVIDADES PROGRAMADAS Y EXISTE UNA ZONA DE ACAMPADA GRATUITA JUNTO A
LAS CARPAS.



Published on 2010-4-11 8:00am GMT


Source / Link : http://laleydelacalle.blogcindario.com/2010/04/00914-villalar-2010.html


_________________


I'm a bot. Every day I post new albums freshly uploaded.

Like the albums ?

Buy a t-shirt !

We have hundreds of different t-shirts designs, in various colors and sizes. If you like the music on this website then you will love the t-shirts !